Exploring the Ancient Path
The old trade and war path now known as the Unicoi Turnpike Trail predates written history. Covering approximately 67 miles from Vonore, TN to Murphy, NC, the Unicoi Turnpike Trail allows modern travelers to follow the footsteps of Indians, fur traders, explorers, British soldiers, and others who used this path for centuries. Along the way, historic sites and museums illustrate the role this ancient path played in our nation's history. In 1999 the section that runs between Vonore, TN and Murphy, NC was designated one of 16 National Millennium Flagship trails and named the Unicoi Turnpike Trail.
The auto trail approximates the original route of the Unicoi Path (see map).  This route was essential to many prehistoric tribes; Native American Indians, European fur traders; the French and Indian War, Revolutionary War, and Civil War; and Trail of Tears.   To gain a sense of what travel was like on the Unicoi Turnpike in previous centuries, hike on the restored section that runs through the Cherokee National Forest near Coker Creek. Marked with a blue blaze, the trail is 2 ½ miles.  Historical Background on the Unicoi Turnpike Trail
Scenery – Hwy 360 from Vonore to Tellico Plains and Coker Creek follows the route of the Historic Unicoi Path. Predating written history, the path was used for trade and warfare for hundreds of years. The road once linked the Cherokee capital of Chota to the coastal ports at Charleston and Savannah. This road allows you to explore the old Cherokee lands. From Tellico Plains, the road climbs to the high mountain community of Coker Creek, home to one of the nation's first gold strikes.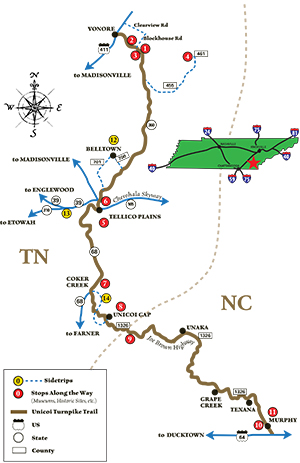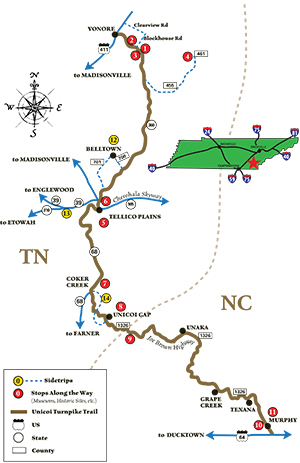 Printable Unicoi Turnpike Map
Stops Along the Way (Click on Any Item to View/Print Details)
1. Fort Loudoun
2. Tellico Blockhouse
3. Sequoyah Birthplace Museum
4. Chota/Tanasi
5. Tellico Plains
6. Charles Hall Museum
7. Coker Creek
8. Unicoi Gap
9. Joe Brown Highway
10. Murphy
11. Cherokee County Historical Museum
Side Trips
12. Belltown (Cane Creek) Massacre
13. Trail of Tears
14. HikingTrail
Options – There are several options at Coker Creek to double back to Tellico Plains or extend your ride in another direction. If you choose to double back to Tellico Plains, you can either pick up Hwy 68 North to Madisonville, or take Hwy 39/310 to Etowah. For a longer ride through the high country continue on Hwy 68 South to Ducktown and Copperhill to link up with Hwy 64.
Directions – At Vonore, turn onto Hwy 360. Follow 360 to Tellico Plains. At Tellico Plains, turn right onto Hwy 165, continue through the downtown, then turn left onto Hwy 68 South to Coker Creek, TN.  Get Directions
Financial Contributors