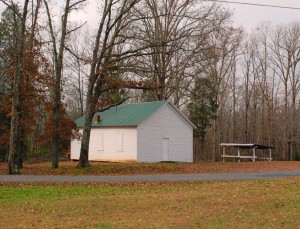 This small frame church is all that remains of Bethsalem, a small farming community that was founded by freed slaves after Emancipation. The church began in a brush arbor. Later a log building was built that was replaced in the 1920's by the current frame structure. For many years Bethsalem was a favorite site for camp meetings. A cemetery sits just across the road where founders and family members are buried. The Church opens its doors the last Sunday of every August for "August Meeting," a time for music, dinner on the ground, and preaching. The public is invited (be sure to bring a covered dish). Listed on the National Register of Historic Places.
Just off Hwy. 30 between Athens & Etowah on County Road 602
No Admission
– The outside of the church and grounds may be viewed at any time from sunrise to sunset but the church is open to the public the last Saturday in August.