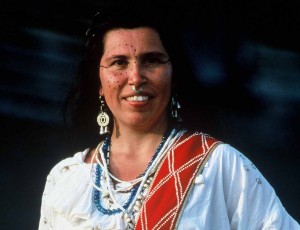 ᎤᎵᎮᎵᏍᏗ  (Welcome)
We invite you to explore the land once known as the Overhill Cherokee Country. The term "overhill" referred to the historic Cherokee settlements that rested on the western slopes of the Appalachian Mountains – Overhill from the Cherokee settlements in the Carolinas and Georgia. Much has changed here over time, but some things remain. You will see the same ridgetops and streams that were here in the 1700's. You will notice place names that remind you of the Native People who gave them those names – Chestuee, Oostanaula, Tellico, Hiwassee, Ocoee, Chilhowee, and Citico. Yet, visiting here in the Overhill is not the complete story of the Cherokee people. To gain a deeper and fuller understanding of the history and contemporary culture of the Cherokee, it is important to explore beyond the borders of the Tennessee Overhill. A visit to the Museum of the Cherokee Indian in Cherokee, NC is an excellent place to start. View Historic Cherokee Country Map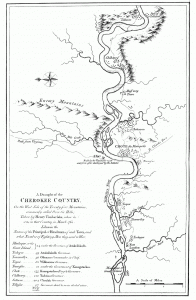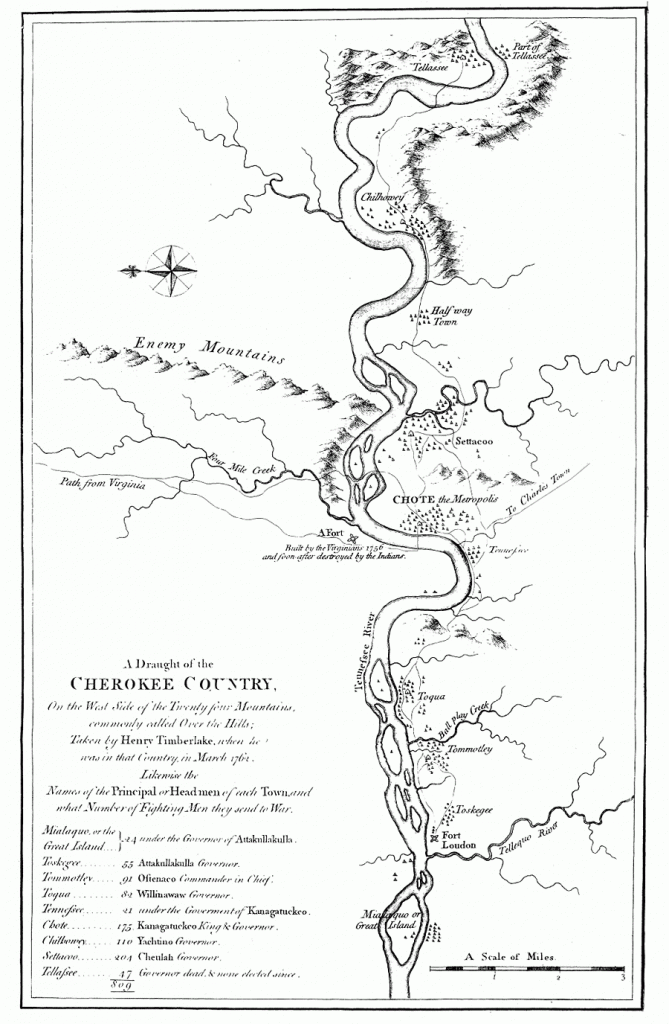 Cherokee Heritage Places to Visit:
Cherokee Heritage Trail
Furs to Factories Trail
Chota / Tanasi Memorials
Sequoyah Birthplace Museum
Ft. Loudoun State Historic Area / Tellico Blockhouse
Charles Hall Museum
Unicoi Turnpike Trail
McMinn County Living Heritage Museum
Cherokee Removal Memorial Park -Birchwood, TN
Red Clay State Historic Park – Cleveland TN
Nancy Ward Gravesite
Fort Marr Blochouse
Background
The Tennessee Overhill region takes its name from the Overhill Cherokee towns that were located in East Tennessee in the 1700's. The term "overhill" referred to the Cherokee settlements that rested on the western slopes of the Appalachian Mountains – on the other side of the mountains from the Cherokee settlements in the Carolinas and Georgia. The Overhill towns were located primarily in the Little Tennessee, Tellico, and Hiwassee river valleys and tributaries. By the mid-1700's the Overhill Cherokee Country was a hotbed of political intrigue. France and Britain were vying for the right to trade with the Cherokees and also for control of the continent. During the American Revolution, and later into the 1790's, the Overhill towns were damaged repeatedly by attacks from colonial and territorial militia. Eventually many of the old Overhill towns were abandoned altogether. In the Treaty of 1819 the Cherokee ceded their lands from the Little Tennessee River south to the Hiwassee River, ending Cherokee control of the Overhill Country. Unfortunately, this did not quell the United State's desire for more land and in 1838 the remaining Cherokee people were moved west on what is now known as the Trail of Tears.
Cherokee People Today
The Overhill Cherokee settlements faded into time but the Cherokee people did not. The Cherokee Nation, based in Oklahoma, is a thriving and sovereign nation of over 200,000 people. The Eastern Band of Cherokee Indians, based in North Carolina, has over 12,000 enrolled members. Another 15,000 Cherokees are members of the United Keetoowah Band.
Learn More:
Sequoyah | Nancy Ward | Oconastota | Cherokee Story of Creation |   Museum of the Cherokee Indian