Ft. Loudoun State Historic Area
{{current_weather.dt | momentjs( atts.date )}}
{{current_weather.temp | temp}} °{{units}}
{{day.dt | momentjs(atts.date)}}
{{day.temp | temp}} °{{day.temp_min | temp}} °{{units}}
{{current_weather.temp | temp}} °
Humidity: {{current_weather.humidity}}%
Clouds: {{current_weather.clouds}}%
Wind ({{current_weather.wind.deg}}): {{current_weather.wind.speed}}{{units_wind}}
{{current_weather.desc}}
{{day.dt | momentjs(atts.date)}}
{{day.temp | temp}}°
{{day.temp_min | temp}} °
See Where The Battle Happened
Fort Loudoun played a key role in the war. Come learn about its history.
More Information
This 1200 acre park, features a reconstructed fort, located on the banks of Tellico Lake.originally built by the British in 1756, when this area was known as the "Overhills"  – a designation given to Cherokee communities that rested on the western slopes of the Appalachian Mountains. Explore the barracks, shops and other structures.
Historic Significance: Begun in 1756 and occupied until 1760, Fort Loudoun was instrumental in allying the Cherokee with the English during the most critical years of the French and Indian War. This alliance provided protection for the Southern frontier while the English armies in the North dealt with the French and their Indian allies.
Step inside the Visitor Center to see artifacts that were recovered from the original fort. A short film details the turbulent history that unfolded in and around the fort in the mid-1700's. The grounds surrounding the fort include walking trails, a beach for swimming, and picnic areas. Living history demonstrations take place throughout the year, with the largest being the "18th Century Trade Faire," part of the "Great Island Festival," held in September.
The site was designated a National Historic Landmark in 1965.  Ft. Loudoun Historical Background Info
Tellico Blockhouse – The Tellico Blockhouse was a United States fortification used primarily from 1794 until 1807. After Congress passed the "Factory Act" in 1795, the blockhouse was expanded to incorporate a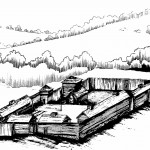 trading post (factory) from which federal agents distributed agricultural equipment and promoted farming practices and mechanical skills to the Cherokees.  The intact archaeological remains of the blockhouse are located just across the lake from Fort Loudoun State Historic Area. Visitors can wander among the foundations and look across the lake toward the old Cherokee Nation.  View Tellico Blockhouse Sketch
This error message is only visible to WordPress admins
Error: No connected account.
Please go to the Instagram Feed settings page to connect an account.
FIND COMFORT NO MATTER WHERE YOU ARE
The Tennessee Overhill region covers several areas that are full of wonderful places to stay. No matter where you end up, you can rest easy knowing days full of fun and adventure await!