{{current_weather.dt | momentjs( atts.date )}}
{{current_weather.temp | temp}} °{{units}}
{{day.dt | momentjs(atts.date)}}
{{day.temp | temp}} °{{day.temp_min | temp}} °{{units}}
{{current_weather.temp | temp}} °
Humidity: {{current_weather.humidity}}%
Clouds: {{current_weather.clouds}}%
Wind ({{current_weather.wind.deg}}): {{current_weather.wind.speed}}{{units_wind}}
{{current_weather.desc}}
{{day.dt | momentjs(atts.date)}}
{{day.temp | temp}}°
{{day.temp_min | temp}} °
Exploring the Ancient Path
Learn more about the history of the Overhill region and explore a former war path.
More Information
Hwy 360 from Vonore to Tellico Plains and Coker Creek follows the route of the Historic Unicoi Path. Predating written history, the path was used for trade and warfare for hundreds of years. The road once linked the Cherokee capital of Chota to the coastal ports at Charleston and Savannah. This road allows you to explore the old Cherokee lands. From Tellico Plains, the road climbs to the high mountain community of Coker Creek, home to one of the nation's first gold strikes.
The Cherokee once commanded much of the southern Appalachians. Archaeological evidence, early written accounts, and the oral history of the Cherokee themselves demonstrate that Cherokees controlled more than 130,000 square miles. The original Cherokee homeland has been altered over the past 200 years, with new roads and towns, and vanishing chestnuts and buffalo, but the shape of the hills and valleys remain much the same as Cherokees experienced them for thousands of years. And Cherokee people are still here. They live in the modern world but many still sing the old songs and practice the old ways. We invite you to explore part of the Cherokee homeland in Tennessee and North Carolina. Museums and historic sites will reveal the long and compelling Cherokee history, while festivals and events make it possible for you encounter Cherokee people and traditions.
(Click on Any Item to View/Print Details)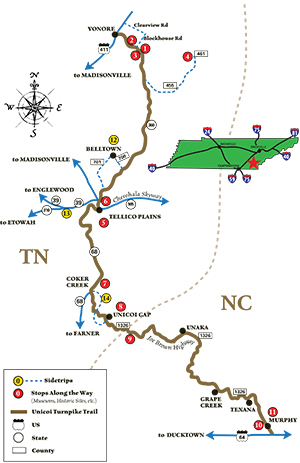 1. Fort Loudoun
2. Tellico Blockhouse
3. Sequoyah Birthplace Museum
4. Chota/Tanasi
5. Tellico Plains
6. Charles Hall Museum
7. Coker Creek
8. Unicoi Gap
9. Joe Brown Highway
10. Murphy
11. Cherokee County Historical Museum
Side Trips
12. Belltown (Cane Creek) Massacre
13. Trail of Tears
14. HikingTrail
Options – There are several options at Coker Creek to double back to Tellico Plains or extend your ride in another direction. If you choose to double back to Tellico Plains, you can either pick up Hwy 68 North to Madisonville, or take Hwy 39/310 to Etowah. For a longer ride through the high country continue on Hwy 68 South to Ducktown and Copperhill to link up with Hwy 64.
Directions – At Vonore, turn onto Hwy 360. Follow 360 to Tellico Plains. At Tellico Plains, turn right onto Hwy 165, continue through the downtown, then turn left onto Hwy 68 South to Coker Creek, TN.  Get Directions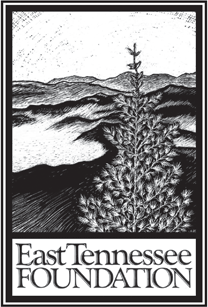 FIND COMFORT NO MATTER WHERE YOU ARE
The Tennessee Overhill region covers several areas that are full of wonderful places to stay. No matter where you end up, you can rest easy knowing days full of fun and adventure await!