Athens, TN to Robbinsville, NC – 76 miles
Directions – Take Exit 49 off I-75 at Athens, TN onto Hwy 30 East to Etowah. Turn right onto Hwy 411 South, then turn left onto Hwy 310 (310 becomes Hwy 39) into Tellico Plains. Turn right onto Hwy 68 South for ¼ mile then turn left onto Hwy 165 which becomes the Cherohala Skyway. From Tellico Plains, follow the Cherohala Skyway (TN Hwy 165/NC Hwy 143) for approximately 50 miles to Robbinsville, NC.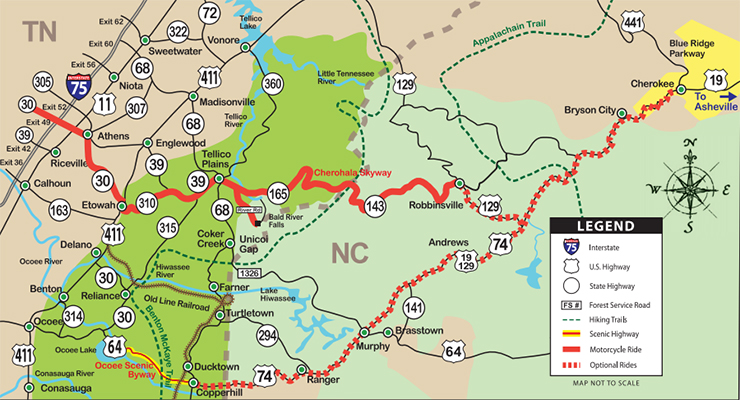 Recommended Side-Trip – After leaving Tellico Plains, and before making the big climb on the Cherohala Skyway, turn right onto FS 210 (Tellico River Road) and ride alongside the Scenic Tellico River up to Bald River Falls, a spectacular waterfall.  Options – At Robbinsville, you can double back to Tellico Plains over the Cherohala Skyway, or pick up Hwy 129/74 South to Murphy, NC or Hwy 74 North to Cherokee, NC.
Scenery – Between Athens & Etowah is a great view of Starr Mountain, providing a glimpse of what lies in store. From Etowah to Tellico Plains the tree-line road winds though farmland & lush green mountain knobs. At Tellico Plains you begin your climb to over 5,000 ft. on the Cherohala Skyway, the best long stretch of touring road in the southeast. The Skyway passes through the Cherokee and Nantahala National Forests – thus the name "Cherohala," offering magnificent views.
Along the Way
Athens – Russell Stover Candy Outlet, Mayfield Dairy Visitor Center, McMinn County Living Heritage Museum, Athens Art Center, Athens Downtown Quilt Trail, Swift Aircraft Museum
Etowah – Etowah Depot/Railroad Museum, Hiwassee River Rail Adventure, Gem Theater
Tellico Plains – Charles Hall Museum, Skyway Visitor Center, Downtown Tellico Plains art galleries and eateries, including the iconic Tellico Beach.
Robbinsville – Joyce Kilmer Memorial Forest.