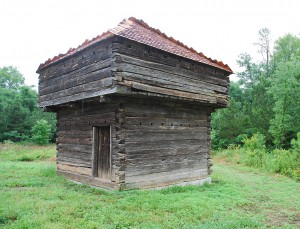 The original fort was built on the Old Federal Road (near the Tennessee / Georgia state line) in the early 19th century.  It was used in 1838 to detain Cherokee Indians prior to their forced removal on the Trail of Tears.  Time erased most of the fort's structures, but the block house survived and was moved to the grounds of the state park ranger station. A short walk from the fort will take you to the Hiwassee River where a Native American fish weir is still visible.
History: The original military post was built in 1814 on the Old Federal Road near the Conasauga River. Initially designated Camp Lindsay, the post was renamed Fort Morrow after the addition of three blockhouses and a palisade enclosure in preparation for the Cherokee Removal. By May of 1838 the fort housed one mounted company and two infantry companies of Tennessee militia under the command of Captain John Morrow. These troops were assigned to collect Cherokee people and transport them to Fort Cass to await deportation on the Trail of Tears. The one remaining blockhouse was relocated to the grounds of the Hiwassee/Ocoee State Park Ranger Station at Gee Creek Campground at Delano.
Fort Marr
Hiwassee/Ocoee State Parks
Gee Creek Ranger Station 404 Spring Creek Rd.
Delano, TN 37325
423-263-0050
Hours: sunrise – sunset