Welcome to Ocoee, TN
If you'd like to book a room or find out more information, you can visit their website using the button below!
High Country Adventures
Affordable lodging suitable for individuals and families. This location has several amenities that make
it a perfect addition to your East TN vacation!
Contact
Amenities:
Distraction Free
Full Bath & Kitchen
Pots & Pans Included
Limited Pets
Fireplace
Activities Nearby
Truck and Bus Parking
Check-in/Check-out Times:
Check-in: 4:00 PM
Check-out: 11:00 AM
More Information
No excursion to the Ocoee River is complete without a nights stay in one of our rustic mountain cabins. No phone, TV or other distractions. Our cabins are all located within our wooded 30-acre Ocoee Outpost, and each comes equipped with a full kitchen and bath. Sleeping accommodations include a private bedroom with a double bed on the main level, a full-size bed and a full futon in the open loft areas. Many cabins even come with a fireplace, and all have a large deck outside for stargazing or simply enjoying the great outdoors. Each cabin comfortably sleeps up to four to six adventurers. Need more space? Simply open the den door and there's another full cabin adjoining.
Each cabin is equipped to meet you needs with towels, sheets & blankets, and pots and pans for cooking. Please note: Due to updated 2020 sanitation guidelines, we will not be able to stock the kitchens with anything other than pots and pans.
FIND YOUR HOME AWAY FROM HOME
The Tennessee Overhill region covers several areas that are full of wonderful places to stay. No matter where you end up, you can rest easy knowing days full of fun and adventure await!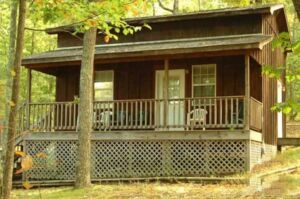 If you'd like to book a room or find out more information, please click here.