Welcome to Ocoee, TN
If you'd like to book a room or find out more information, you can visit their website using the button below!
Quest Expedition Cabins
Affordable lodging suitable for individuals and families. This location has several amenities that make
it a perfect addition to your East TN vacation!
Contact
Amenities:
Full Kitchen
Pots & Pans Provided
Covered Porch
Grill
Limited Pets
Activities Nearby
RV and Bus Parking
Bunkhouses Available
Check-in/Check-out Times:
Check-in: 2:00 PM
Check-out: 11:00 AM
More Information
We have mountain cabin rentals near Ocoee Tennessee! Choose from 1,2 or 3 bedroom cabins nestled under acres of trees, surrounded by the Cherokee National Forest. These mountain cabins provide a rustic experience in a wilderness setting with most of the modern conveniences. Cabins have a full kitchen with cooking and serving utensils, dishwasher, all bed linens, covered front porch, charcoal grill, central heat and air.
Our cabins are in a convenient location to whitewater rafting, Parksville Lake, Chilhowee Recreation Area, a grocery store and local restaurants. Cabins are 1 hour from downtown Chattanooga, 20 minutes from Cleveland and only minutes to Ocoee or Benton Tennessee.
Also on property is a sand volleyball court, outdoor fireplace and horseshoes. Cabins are located just minutes from Quest Expeditions, nearby restaurants, stores, waterfalls, hiking trails, lakes, biking trails, horseback riding and the Cherokee National Forest.
FIND YOUR HOME AWAY FROM HOME
The Tennessee Overhill region covers several areas that are full of wonderful places to stay. No matter where you end up, you can rest easy knowing days full of fun and adventure await!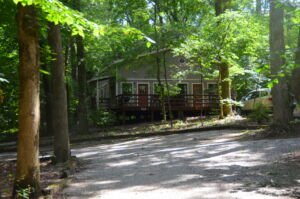 If you'd like to book a room or find out more information, please click here.