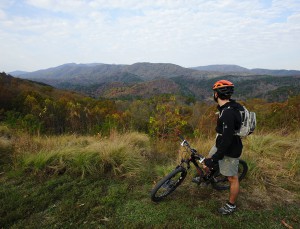 The Tennessee Overhill offers miles of mountain biking trails that range from easy to challenging. In the Cherokee National Forest,  some trails are "designated use" for Mountain Bikes, Motorcycles, or Equestrian.  Hiking is allowed on all trails in the forest. Please cooperate and abide by the "share the trail" rules. When biker meets horse, biker should always dismount and wait off trail until horse(s) pass.
Request our free mountain biking brochure at 877-510-5765.
Mountain Biking Trails
Ocoee/Hiwassee Ranger District Mountain Biking Trails    
Tellico Ranger District Mountain Biking Trails
Note: Annual Cherokee National Forest Pass may be purchased at the Ocoee Whitewater Center or any other Cherokee National Forest office.
Bike Rentals
Raft One – 800-723-8663 – www.raft1.com
Scott's Bicycle Centre (Cleveland, TN) – 423-472-9881 www.scottsbikes.com