Cherokee National Forest
Early spring offers the first glimpse of wildflowers in the Cherokee National Forest and the Tennessee Overhill. That's when trees begin to bud and wildflowers begin to peep up through the forest floor. In March and April the region erupts with bloodroot, fire pink, trillium, and crested dwarf iris while redbuds and dogwoods shed white and purple blooms across the Overhill. Flowering is generally 6-8 weeks later at higher elevations, so you can follow spring up the mountains.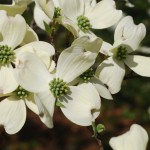 These treasures can be seen from hiking trails that wind deep into the forest or along paved highways and scenic byways. Viewing Information: Wildflowers bloom beginning at the lowest elevations in March and continue until autumn arrives in the high country. Start along the valleys and lower slopes of the Hiwassee and Tellico rivers, then explore a little higher each week until you make it to the top of the Cherohala Skyway. For fall, reverse the plan – start at the higher elevations then work your way to the lowlands.
Doc Rogers Fields
Located in the Cherokee National Forest, just off Hwy. 68 and the Joe Brown Hwy., at Coker Creek, TN. The fields are an historic farm field next to Coker Creek that is now planted with native, warm weather grasses. Here you can glimpse the kind of grasses that once grew in abundance in the Overhill before cultivation. Stop by the Coker Creek Welcome Center for more information.
Important Reminder: Folks visiting the Cherokee National Forest should not pick or dig up flowers and plants. Due to the increasing numbers of people digging plants from the wild, we are losing a great number of plant species; gene pools are becoming smaller and some species are becoming endangered. Scientists have discovered many wild plants are mutually dependent on other plants in the area and cannot live without the other. So remember take a picture, instead of picking flowers. They'll last longer and everyone can enjoy the wildflowers for years to come.