Copperhill, TN to Benton, TN – 31 miles
Directions – From Copperhill, TN, follow Hwy 68 North about 3 miles to Ducktown, TN. Pick up Hwy 64 West there and ride through the Ocoee River Gorge. At Parksville Lake, turn right onto Hwy 30 toward Reliance. Follow Hwy 30 (known locally as the old Greasy Creek Road) for 9 miles to Reliance, TN. Continue on Hwy 30 for around 6 miles to Hwy 411. Turn left onto Hwy 411 South to Benton, TN, or turn right onto Hwy 411 toward Etowah.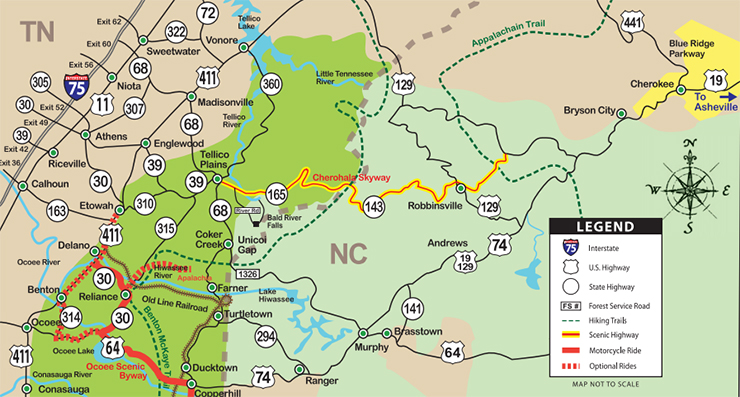 Recommended Side Trip – For a side-trip up the Hiwassee River to the Apalachia Powerhouse, turn right at Reliance onto Hwy 315, cross the Hiwassee River Bridge & turn right onto Childers Creek Road .Continue for about 1 mile then turn right at Reliance Fly & Tackle (still Childers Creek Road). At the next fork stay right & continue to Apalachia Powerhouse. Return to Reliance to pick up Hwy 30 and continue 6 miles to Hwy 411.  Options – Turn left onto Hwy 411 South to Benton, TN, or turn right onto Hwy 411 toward Etowah.
Scenery – Hwy. 64 winds through the rugged Ocoee River Gorge, with curves surrounded by rock bluffs on one side & the Ocoee River on the other. Take time to look at the rock formations in the river beds and road cuts. Hwy 30 winds through Greasy Creek Community, home of the Ramp Festival & through the forest to Reliance, then follows the Hiwassee River to Hwy 411. The side trip, up the mountain to Apalachia Powerhouse, follows the Hiwassee River upstream, climbs up to Hood Mountain, overlooking the Big Bend of the Hiwassee River, and continues on to the Powerhouse.
Along the Way
Copperhill/Ducktown – Copperhill Downtown shops and eateries, Ducktown Basin Museum, Ocoee Whitewater Center, Historic Ocoee Dam & Flume Line.
Reliance– Historic District of Reliance, John Muir Trail, Benton MacKaye Trail.
Benton/Delano – Chilhowee Gliderport, Newspaper Book Shop, Nancy Ward Grave.
Etowah – Etowah Depot/Railroad Museum, Hiwassee River Rail Adventure, Gem Theater.