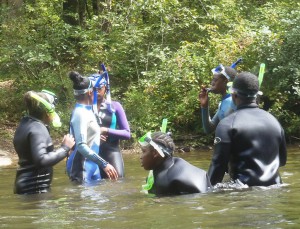 Fishing, canoeing and hiking are good ways to enjoy the Conasauga River, but its Underwater Wildlife Viewing Area is unique to the Southeast.   Visitors can see over 70 species of fish.  That's more than double what is found in the Colorado or Columbia River basins combined.   Learn more
Underwater Fish Viewing on the Conasauga River
Springing from the rain-soaked slopes of the Southern Appalachians, this relatively silt-free stretch of the Conasauga State Scenic River supports over 70 fish species, including the federally listed blue shiner, amber darter, and Conasauga logperch, as well as the state-listed trispot and coldwater darters. An exceptionally diverse community of mussels is also present.  Guide to River Snorkeling in the Cherokee National Forest
Conasauga River Snorkeling Hole Tours: Guided snorkeling tours are available at select times during the year by calling the Cherokee National Forest at 423-338-3331 or Travis.McDonald@usda.gov. Equipped with mask, snorkel and a field guide to freshwater fishes, identifying these secretive and colorful fish will challenge adventuresome viewers. The Conasauga River Trail offers easy walking to river access points downstream from parking area.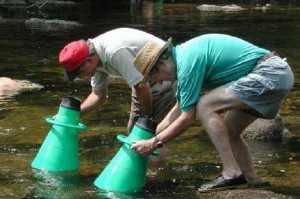 Directions: From junction of Hwy. 64 / 411 south of Benton, TN, travel south 6.7 miles on Hwy. 411. Turn left onto TN 313 (Ladd Springs Road, becomes Willis Springs Road). Travel 4 miles, then bear right on gravel Forest Service Road 221 (Pea Vine/Sheeds Creek Road). Continue for 4.7 miles and turn right onto parking area for Conasauga River Trail 61.
Important Reminders: Always snorkel with a partner and wear safety flotation gear.  Please do not disturb or collect the sensitive fauna of this river.